Due to the closing down of our current venue, we are in the process of looking for a new place to host our monthly painting sessions, therefore no further painting sessions have been scheduled until we are able to do so.

​If You can get 10 friends together we'll throw you your own art uncorked event!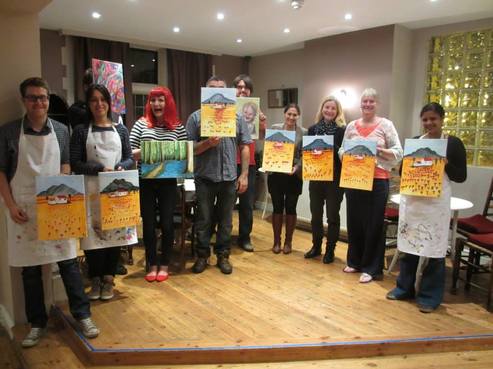 Looking to do something different in the week? Bring a few mates and enjoy some drinks while you create a masterpiece. Rubbish at art? Who cares! Our local artist will show you step-by-step how to recreate the evening's featured painting, so everyone's an artist. You will leave having had a great night with friends, and your very own piece of art to take home.
Tickets are £20 for our local 'free for all' events but can vary for special events.
What's Included:
-Acrylic paint
- canvas
- brushes
-
easel
- apron
- tuition
- nibbles

Events are now held in our Art Uncorked studio venue at 75 Bedford Street, Leamington Spa. The venue is in the centre of town. It can hold up to 60 people and has its own bar. Our 'Free For All' events are held twice a month. They are open to anyone and everyone. You can reserve tickets online or pay cash on the evening. If you would prefer to pay cash on the evening, please e-mail us to book your place.

Private Parties are available too. We can come to you or they can be held at our studio venue. This can be for any occasion imaginable, or even just for the hell of it! Tickets are the same price with extra catering options available. You just need a minimum of 10 people. Click our Party Hire link for more info.